British Grand Prix 2018
11 Jul 2018
Race 10 – 54 Laps – 5.891km per lap – 306.198km race distance – medium tyre wear
British GP F1 Strategy Report Podcast – our host Michael Lamonato is joined by Zach Priest from  the Superlicense F1 Podcast.
VETTEL WINS IN HAMILTON'S HOUSE
Sebastian Vettel won his first British Grand Prix in nine years and Ferrari's first in seven to break British hearts after pole-sitter Lewis Hamilton floundered off the line to squander his good Saturday work.
Hamilton recovered to second place, however, in a race that rapidly unfolded from a strategic game of cat and mouse into a four-way on-track duel in the final stint.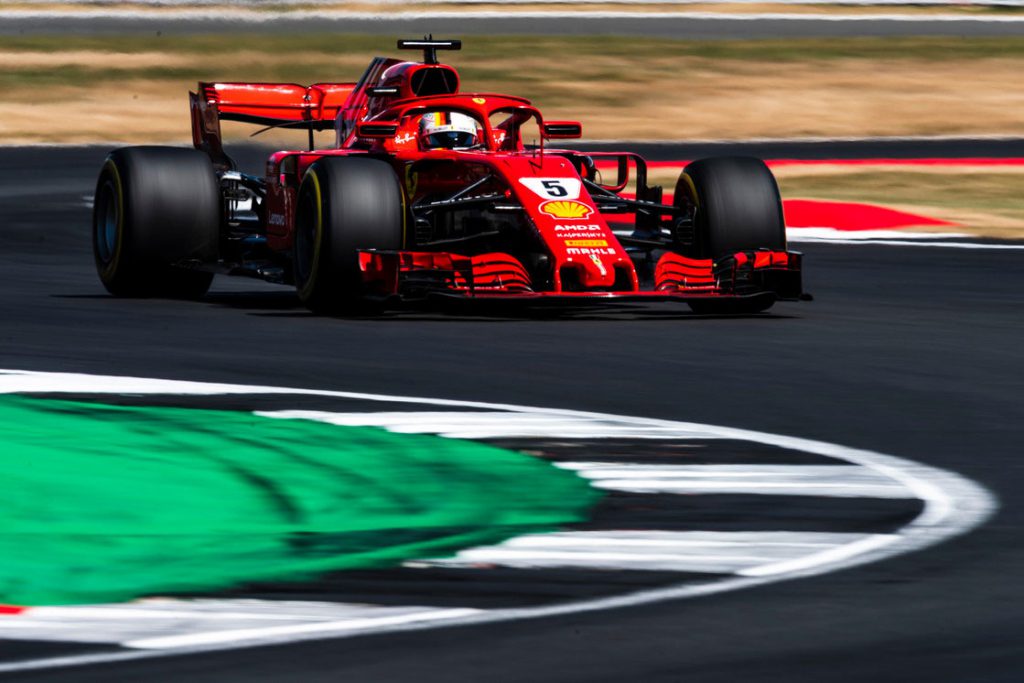 THE BACKGROUND
Silverstone was amongst Ferrari's least competitive circuits last season, and over the past five years Mercedes had been able to turn it into a fortress, winning with Nico Rosberg in 2013 and Hamilton every year thereafter.
Mercedes seemed destined to extend its dominance after a power unit upgrade in France and a chassis update in Austria appeared to give it the upper hand in the battle with Ferrari, but the Scuderia brought aerodynamics upgrades of its own to England, putting on back on equal footing.
Pirelli brought its hard compound to a race for the first and almost certainly only time this season. Few teams brought more than one set of the blue-striped tyre given the usual cool climes of Northamptonshire, but clear skies and temperatures nudging 30°C sent track temperatures past 50°C for the weekend, bringing the hard tyre into contention for those with enough sets.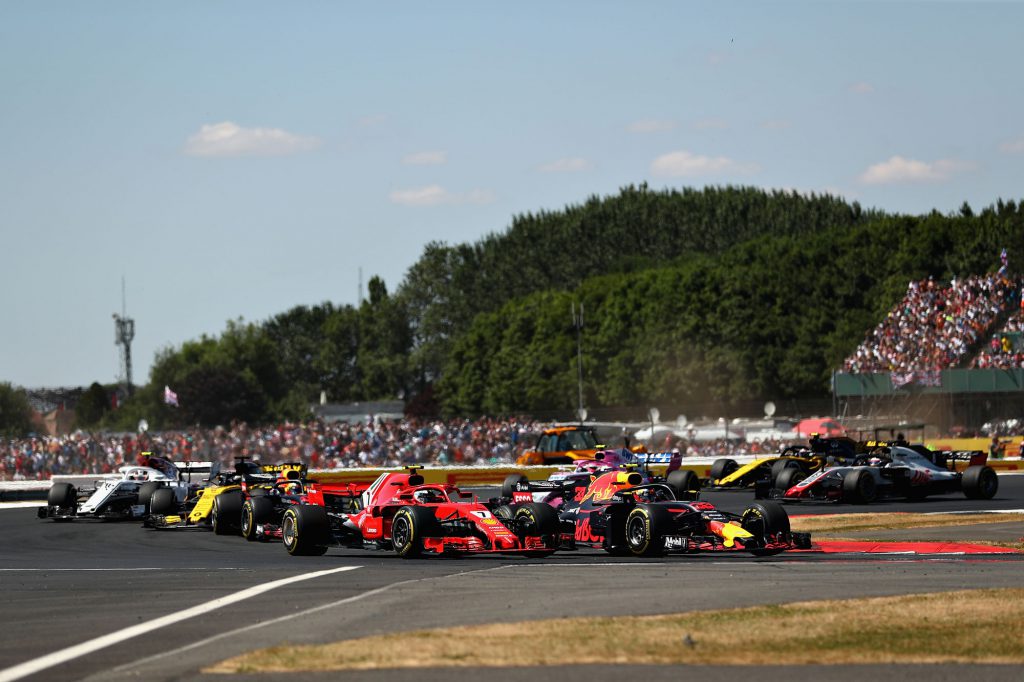 QUALIFYING
With around a second of raw pace difference between each compound, no-one used the medium in Q2 to attempt to have it as a race start tyre — and, in any case, the soft compound would almost certainly have to be used in the race at some point anyway.
Hamilton pipped Vettel to pole position, with Kimi Raikkonen third and Valtteri Bottas fourth. Red Bull Racing was a way off the pace in fifth and sixth, though both Max Verstappen and Daniel Ricciardo has set up their cars for the race knowing the lack of power from the Renault engine would have them out of Saturday contention anyway.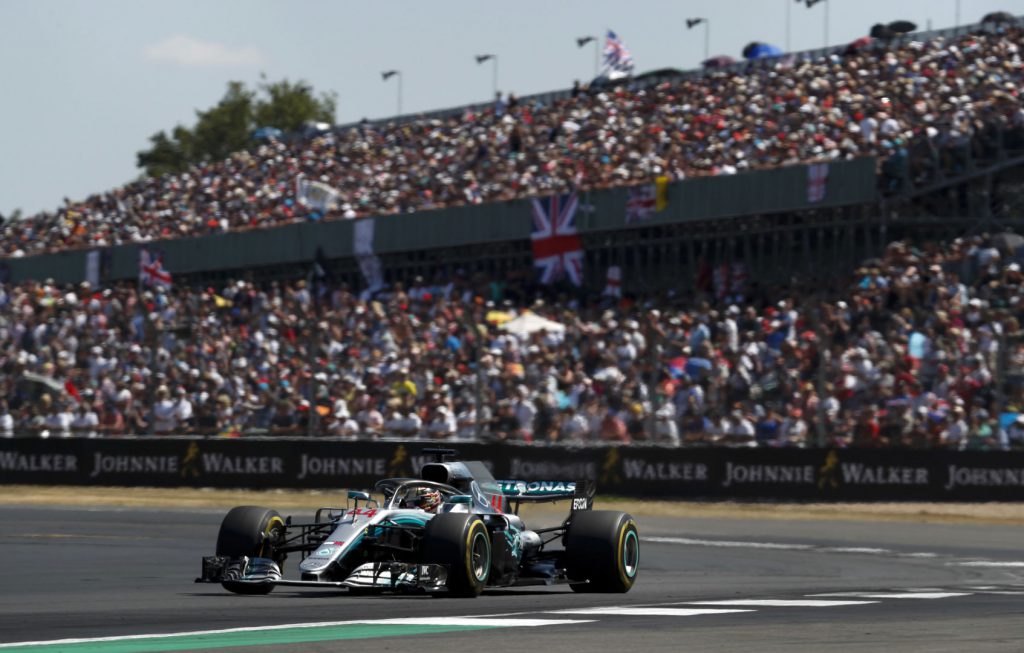 THE DECISIVE MOMENT
While Vettel's excellent start and Hamilton's poor one is ultimately what put the Ferrari driver in a winning position, the podium was only decided on the track across the final 10 laps thanks to two safety cars.
The British Grand Prix was balanced between one and two stops if drivers stuck to only the soft and medium compounds, as almost all did. The first safety car on lap 32, triggered by Marcus Ericsson's heavy crash at turn one, presented an ideal chance to make that second stop.
However, it also presented an opportunity: drivers who thought they could make it to the end of the race without making a second stop could stay out on their worn tyres and gain track position, which they would then have to defend for approximately 15 laps.
Second-placed Valtteri Bottas and fifth-placed Lewis Hamilton, having stopped on laps 21 and 25 respectively, were told to stay out, promoting them to first and third. The thinking was that had they simply done as Ferrari had and emerged from pits on soft tyres — and used softs at that, given Mercedes had no new soft sets left after using them in qualifying — neither Hamilton nor Bottas would have been able to make an impression on Raikkonen or Vettel in such evenly matched machinery.
Taking track position and attempting to defend was therefore a strategic gamble for victory rather than a conservative drive for points.
For a time everything was coming up Valtteri, the Finn impressively rebuffing Vettel's aggressive advances, but by lap 47, his tyres now 26 laps old, Bottas ran out of grip. He not only ceded the win to Vettel, but he lost second to Hamilton and third to Raikkonen.
Hamilton, on the other hand, had tyres four lap younger than those on Bottas's car, enabling him to secure second place, which is arguably the most he deserved after losing the lead with his slow start.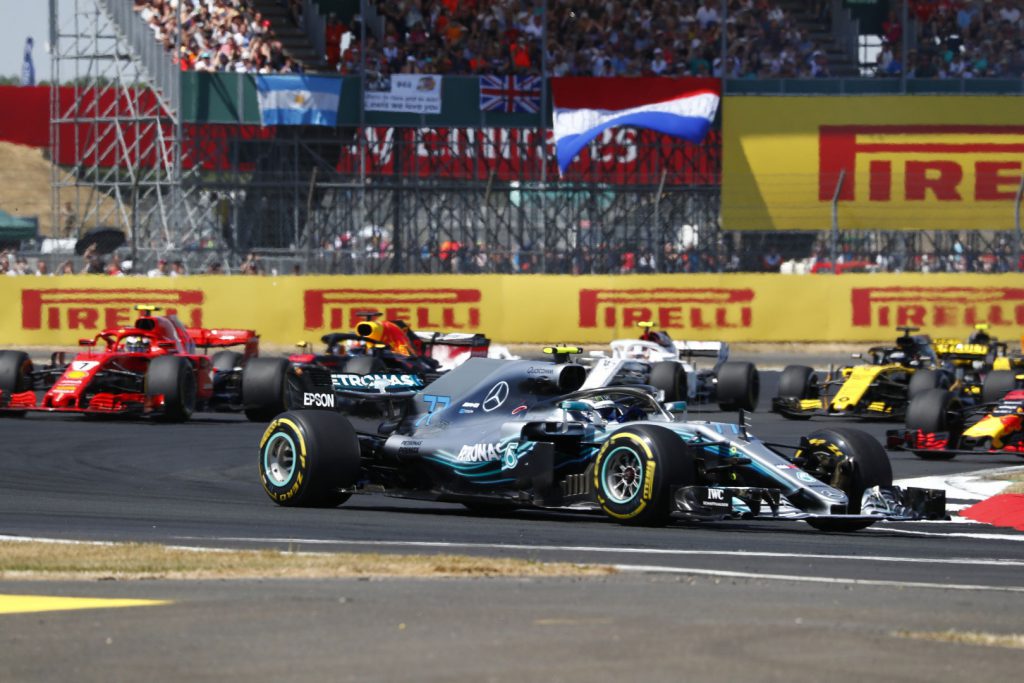 'INTERESTING TACTICS'
At turn three Raikkonen was lining up a move to relieve Hamilton of fourth place, but the Finn locked his front-right tyre and careered into the Mercedes, sending Lewis tumbling to the back of the field. Kimi was handed a 10-second penalty for the error.
Hamilton, however, felt there was more at play, implying Raikkonen had hit him deliberately.
"Interesting tactics, I would say, from their side," he said, and referring to the French Grand Prix in which Vettel hit Bottas at turn one, he added, "All I'll say is there's now two race the Ferraris have taken out one of the Mercedes."
Though he didn't attempt to row back his commentary in the post-race press conference, where both Vettel and Raikkonen dismissed his theory, he later used Instagram to call his crash with Raikkonen a "racing incident".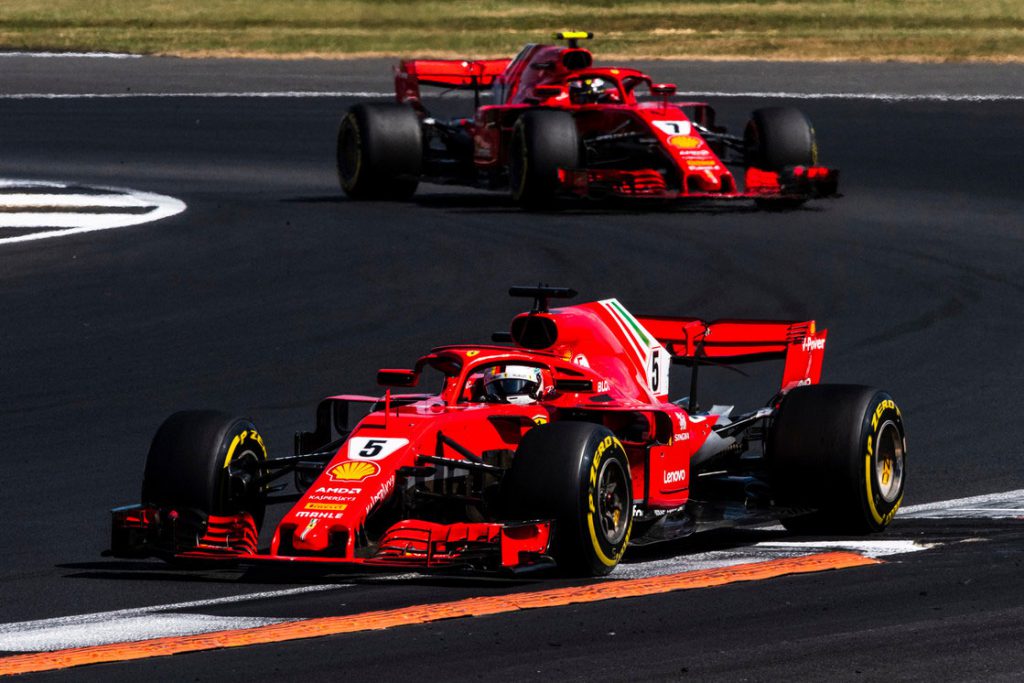 RED BULL RACING AGGRESSION BACKFIRES
The Renault-powered Red Bull Racing team knew it couldn't compete with Mercedes or Ferrari on one-lap at Silverstone, so the team went into the weekend fully focused on maximising performance in the race.
On lap 30 this took the shape of Ricciardo making a pre-emptive stop for new soft tyres from fourth place when the team saw that Raikkonen behind him seemed to be struggling on his worn mediums.
The team intended Ricciardo to use his superior pace on the new rubber to ensure Raikkonen would emerge from his pit stop behind the Australian, but the plan came undone when the first safety car was triggered only two laps later, allowing Raikkonen to stop effectively for free, relegating Ricciardo to finishing behind the Ferrari and Mercedes drivers.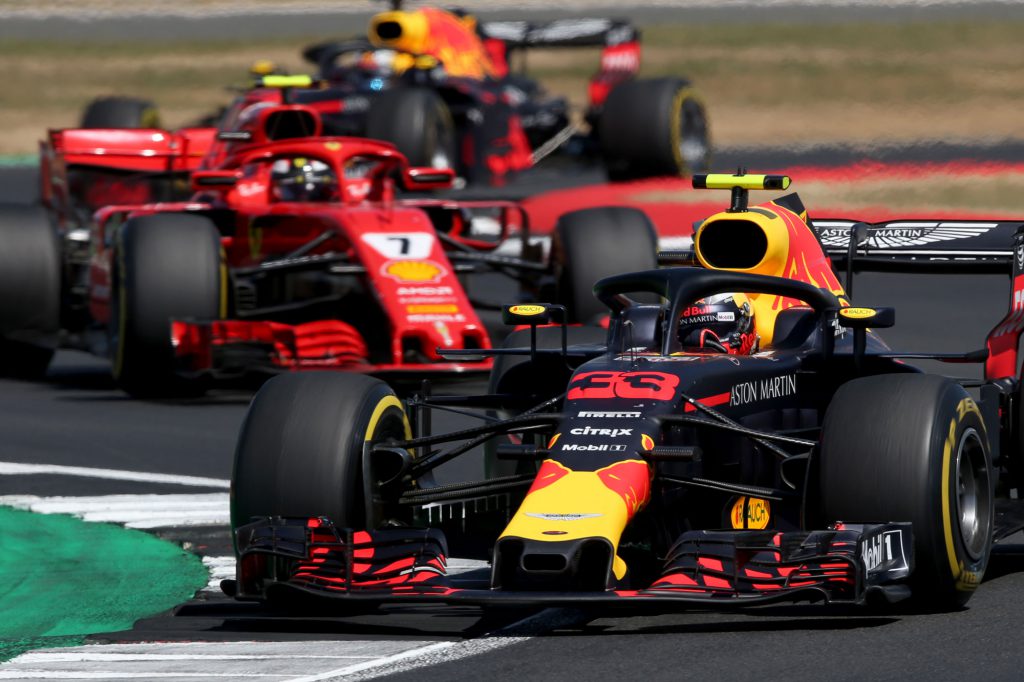 HARD TYRE WORKS, JUST
In Austria Renault failed to score while midfield rival Haas maximised its points haul, so the French team wanted to ensure it scored heavily in Britain. The path to points was to guarantee a one-stop race by switching from the starting medium compound to the unfancied hard tyre at the first stop window.
For Hulkenberg it worked a treat after his lap-20 stop. Though the hard compound was around a second a lap slower than the medium, avoiding the need to make a second stop ensured the German remained ahead of the midfield to finish sixth.
Carlos Sainz was less competitive, however. He was stopped on lap 17 to undercut Esteban Ocon, but the Frenchman's in an out-laps were almost two seconds quicker compared to those set by Sainz, who slowed when he emerged behind McLaren's Fernando Alonso.
In some respects Ocon achieved what Sainz was attempting. The Force India driver emerged ahead of Alonso and just behind Stoffel Vandoorne, who entered the pits one lap later, giving the Force India driver the space he needed to nurse his medium tyres all the way to the end of the race.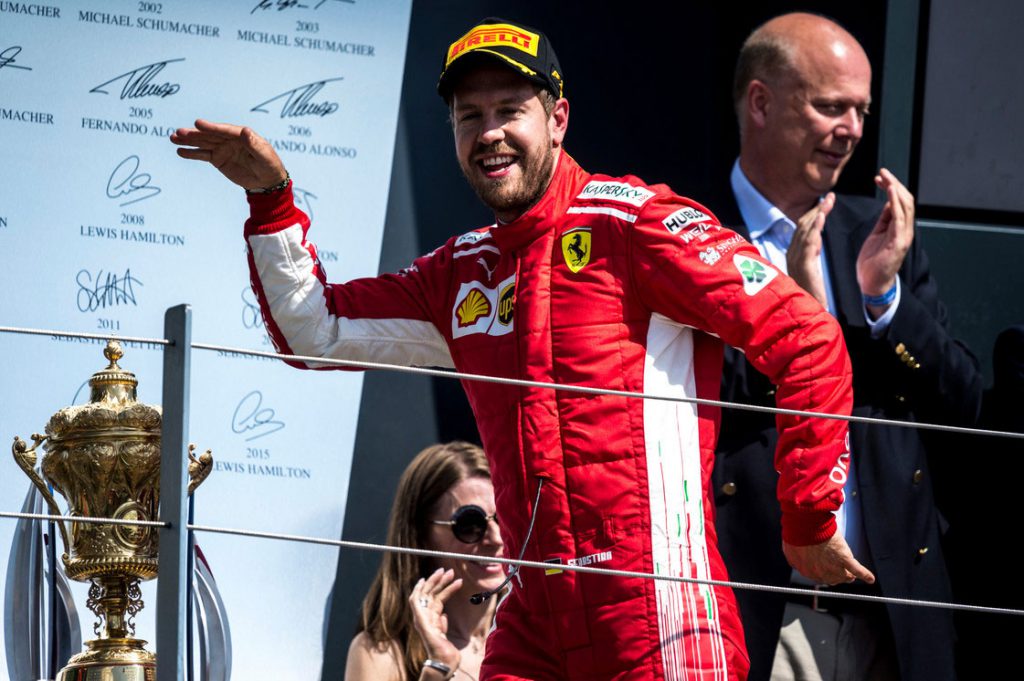 Tyre data
Courtesy of Pirelli Motorsport