Australian Grand Prix 2018
27 Mar 2018
Race 1 – 58 Laps – 5.303km per lap – 307.574km race distance – low tyre wear
Australian GP F1 Strategy Report Podcast – our host Michael Lamonato is joined by Rob James from the Box of Neutrals Podcast.
THIRD TIME'S NOT A CHARM: HOW MERCEDES LOST HAMILTON THE AUSTRALIAN GP
For the third time in a row Lewis Hamilton failed to convert an Australian Grand Prix pole position into victory, and for the second time in succession it was a tactical error that left the Mercedes driver in the lurch.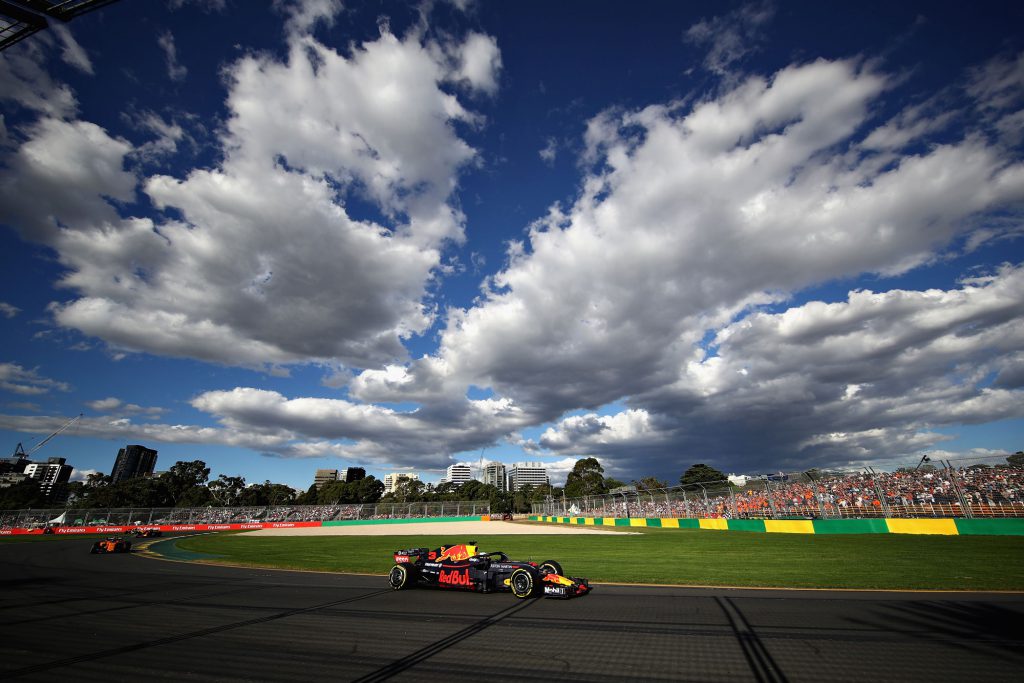 THE BACKGROUND
While Pirelli's 2017 tyres were necessarily conservative, for 2018 the Italian tyre company has made every compound one step softer — last year's soft became this year's medium et cetera — and will introduce a new 'hypersoft' tyre compound to better cater for all 21 circuits on the calendar.
The aim is to offer a combination of compounds at each race that can generate equally fast one-stop and two-stop races, thereby promoting more strategic variation.
Unfortunately the Australian Grand Prix proved a staid one-stop race regardless. Despite bringing the ultrasoft, supersoft and soft compounds, degradation around the street circuit was low, and the difficulty cars have following and overtaking on the Albert Park track meant teams were always going to prioritise track position.
THE DECISIVE MOMENT
In many respects the key moment of the race came in qualifying when Valtteri Bottas binned his car in the opening moments of Q3. He started 15th after serving a five-place gearbox penalty, the result being his teammate, Lewis Hamilton, was left to defend his pole position from Ferrari teammates Sebastian Vettel and Kimi Raikkonen all on his own.
Ferrari was always going to use its numerical advantage against Hamilton, and it did so by stopping Raikkonen, who started second, early on lap 18 with the intention of allowing Vettel, then third, to run towards the ideal lap-28 one-stop window. Mercedes had little choice but to cover Raikkonen, pitting Hamilton on lap 19 and maintaining the lead.
Hamilton still had the race in hand. Raikkonen wasn't a threat and Vettel was comfortably within reach, certainly enough for Hamilton to keep within his virtual safety car window — or so Mercedes thought.
The virtual safety car window is the gap required by a driver to make a pit stop under VSC conditions and still maintain track position. Mercedes had calculated this gap in Melbourne to be around 15 seconds, and Hamilton was trailing Vettel by 11.306 seconds before the VSC was triggered and the German made his stop.
When Vettel left pit lane with the lead, however, Mercedes was forced to admit that it had somehow made a miscalculation, with Toto Wolff conceding that his team didn't understand how its strategy software returned incorrect information.
With Vettel on newer tyres and with the all-important track position, recovering the lead was always going to be a tall order, and Hamilton had to settle for second place.
THE VSC RETURNED SOME BIG WINNERS — AND LOSERS
When a safety car — virtual or otherwise — arrives at around a pit stop window, the chance of a big win or big loss increases significantly.
Sebastian Vettel was obviously one such winner, as was Daniel Ricciardo, who made his stop without falling behind Fernando Alonso. Alonso also gained advantage by keeping ahead of Max Verstappen, and Valtteri Bottas's charge from 15th on the grid was helped by not having to pit back into traffic.
On the other hand, Renault was a major loser, with Nico Hulkenberg and Carlos Sainz losing a net five places after they pitted on laps 24 and 22 respectively. Force India was also unable to capitalise on the virtual safety car, having already stopped Sergio Perez and Esteban Ocon on laps 24 and 23.
BOTTAS MAKES A BIG RECOVERY…
Valtteri Bottas recovered from P15 to eighth, scoring four points, but it was slow going for the Finn. He made three overtaking manoeuvres, made up two places from Haas's retirements and jumped two cars in the pit stops. His own lap 25 stop, made just as the VSC was triggered, meant he didn't fall back into traffic while making his tyre change.
…BUT OVERTAKING REMAINS A PROBLEM
Albert Park is statistically the second most difficult track for overtaking, and it showed on Sunday, with only five on-track passes logged. Race organisers together with Formula One Management have considered circuit layout tweaks to improve overtaking, but they decided against it as the only possible changes to the public roads would have made little difference for the cost.
The FIA implemented a third DRS zone for the first time this weekend, but it had little effect, and Ross Brawn, F1's motorsport managing director, admitted that the current high-downforce cars are the sport's biggest problem when it comes to side-by-side racing.
Brawn has set up a panel with the FIA to design a new generation of regulations that will allow drivers to follow and pass more easily, especially on older or narrow circuits that are no longer conducive to overtaking, but this work won't come to fruition until 2021.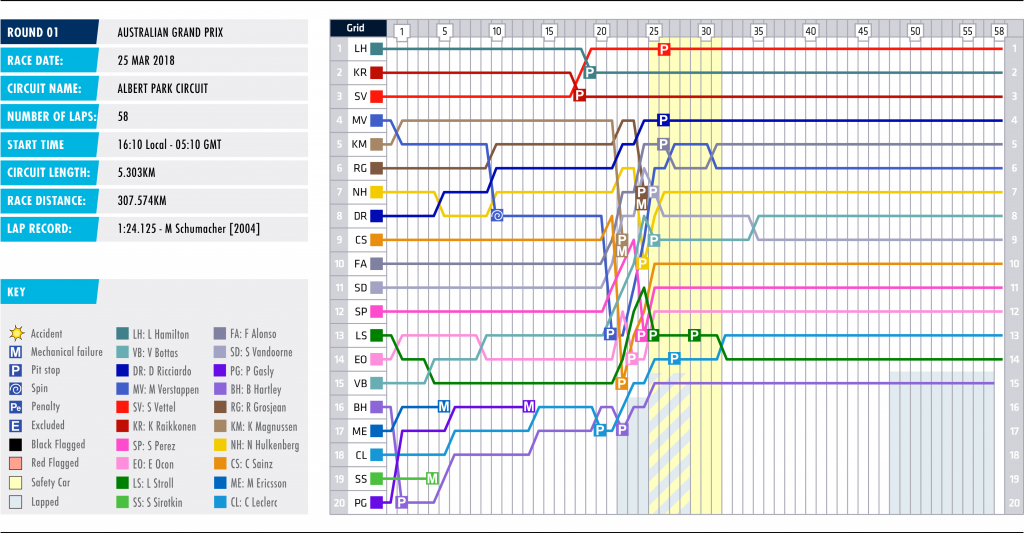 Tyre data
Courtesy of Pirelli Motorsport