Japanese Grand Prix 2017
10 Oct 2017
Race 16 – 53 Laps – 5.807km per lap – 307.471km race distance – low tyre wear
Japanese GP F1 Strategy Report Podcast – our host Michael Lamonato is joined by Abhishek Takle – F1 Journalist.
THE OUTLOOK
September and October 2017 will be remembered as the nadir of Ferrari's season. At the beginning of September Sebastian Vettel led the drivers standings by seven points; after the Japanese Grand Prix in early October he trails Lewis Hamilton by 58 — a 66-point turnaround. Ferrari is almost certain to lose the constructors title at the next round in the United States, and Hamilton is likely to be crowned a four-time world champion by the Mexican Grand Prix on 29 October.
This was the story of the 2017 Japanese Grand Prix, but in truth Vettel's retirement had little effect on the race itself. Hamilton's afternoon was a cruise barring a handful of laps at the end when apparent engine troubles made him vulnerable to Max Verstappen, and the frontrunning teams again proved impervious to the midfield in what was a staid and generally straightforward grand prix.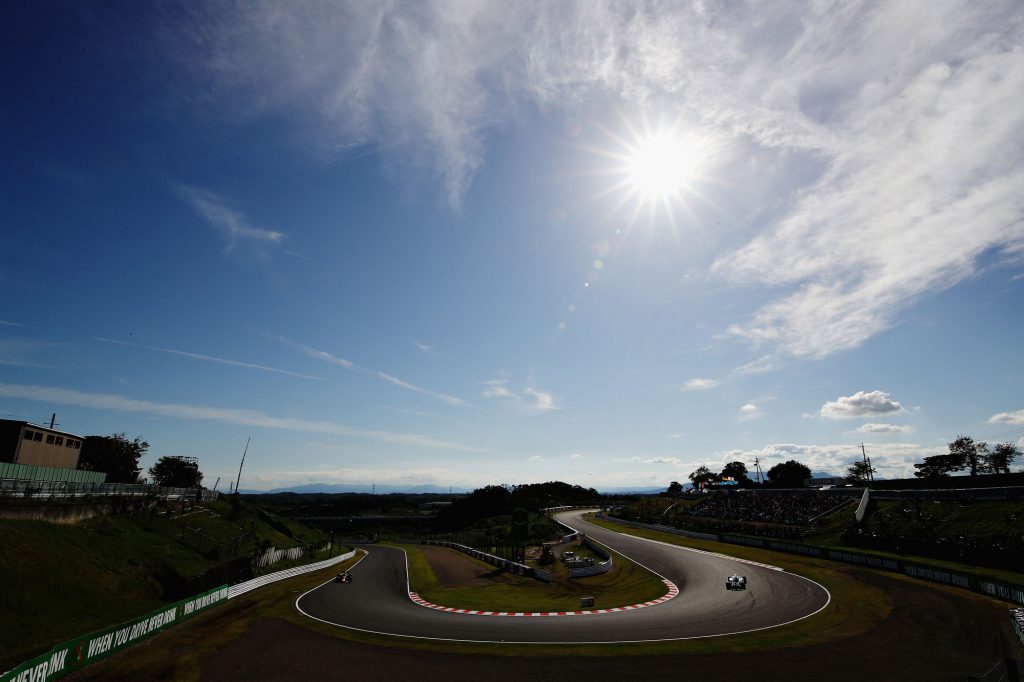 PRE-RACE EXPECTATIONS
Just as in Malaysian Grand Prix, washed-out practice on Friday meant teams had less long-run data to choose strategy. The soft and supersoft tyres also carried over from Malaysia with a similar 0.7-second pace differential.
Unlike Malaysia, however, incomplete Friday testing data suggested this wouldn't be an easy one-stop race. Suzuka competes with Spa as one of the hardest track on tyres, putting maximum life for the supersoft at around 20 laps and the soft between 30 and 35 laps. This didn't transpire, however, and the fastest route to the flag proved to be a one-stop race because two-stop drivers would find themselves stuck in traffic on the difficult-to-pass circuit.
THE RACE
ONE-STOP WINS THE DAY
Some teams nonetheless flirted with a second stop, and Felipe Massa's lap-17 stop had all the hallmarks of a two-stop strategy. After spending time fighting Kimi Räikkönen on the soft tyre — more on that later — Massa engaged in a battle with Hülkenberg, who was also on the harder compound. From lap 14 they sparred until Williams pulled the trigger to stop on lap 17, bang in Pirelli's estimated two-stop window.
This would undo Massa's race, however, as it quickly became obvious none of the other supersoft starters were doing likewise, giving the Brazilian a 35-lap stint on the softs to end the race. He kept ahead of the Haas cars after the stops — they and Hülkenberg were Massa's principal race rivals — but his pace on the soft tyre, particularly late in the race, simply didn't cut it, and he was passed by both in a gutsy move spearheaded by Magnussen on lap 42.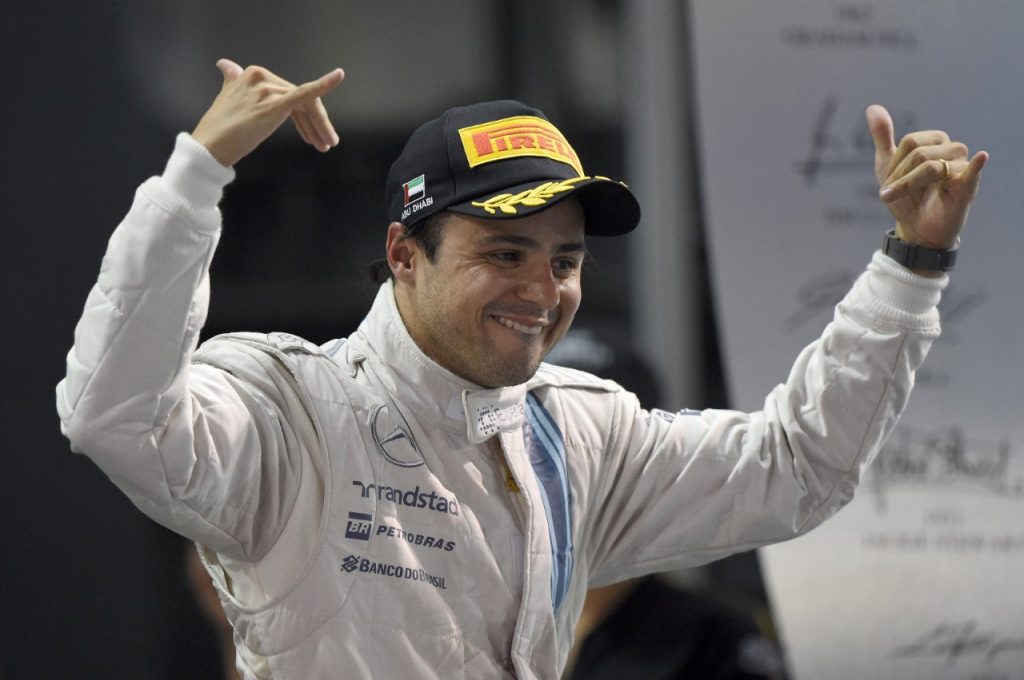 THE IMPORTANCE OF RACING YOUR OWN RACE
Kimi Räikkönen encountered two types of midfield opponent as he charged through the field on his contrastrategy: those who moved out of the way knowing they weren't in his race and those who became embroiled in the battle.
Nico Hülkenberg was the first type. The German moved out of the Ferrari's path twice — before and after Räikkönen's stop — which allowed him to maximise his own race pace. Felipe Massa, however, was the second type, and not only did this slow Räikkönen's progress, it also played a part in undermining Massa's own grand prix.
The Williams driver lost bundles of time in defence of a position he was never going to keep, and the knock-on effect was that he wasn't as far up the road as he could have been at his first pit stop and was therefore more vulnerable to the Haas cars towards the race's end.
This difference in approach was set to come to a head when Hülkenberg made his pit stop on lap 38. The Renault driver exited the pits just behind the battle the Haas cars' battle with Massa, and on the supersoft tyre and in a faster car he should've been able to pass all three — had DRS failure not forced his retirement one lap later, of course.
A VARIETY OF STRATEGIES, NONE OF WHICH WERE VERY SUCCESSFUL

Other cars did execute two-stop-plus races, though all were unsuccessful.
Pascal Wehrlein attempted Sauber's renowned 'no-stop' strategy behind the safety car by switching his opening-stint soft tyres for supersofts on lap two and switching back to softs on lap three with the intention of making it to the end. By lap 35 he had to switch to a set of used softs. He finished last.
Stoffel Vandoorne set himself up for a two-stop race by switching from supersofts to softs on lap nine, forcing another switch on lap 34. He finished second last.
Pierre Gasly stopped for new softs on lap 22, which should have been a long enough first stint to see him through to the end of the race. However, his inexperience managing the tyres in just his second race showed, and a lock-up during his second stint was bad enough to require that second stop, which left him P13. Had he been able to finish his second stint, he could have competed for the final point of the race.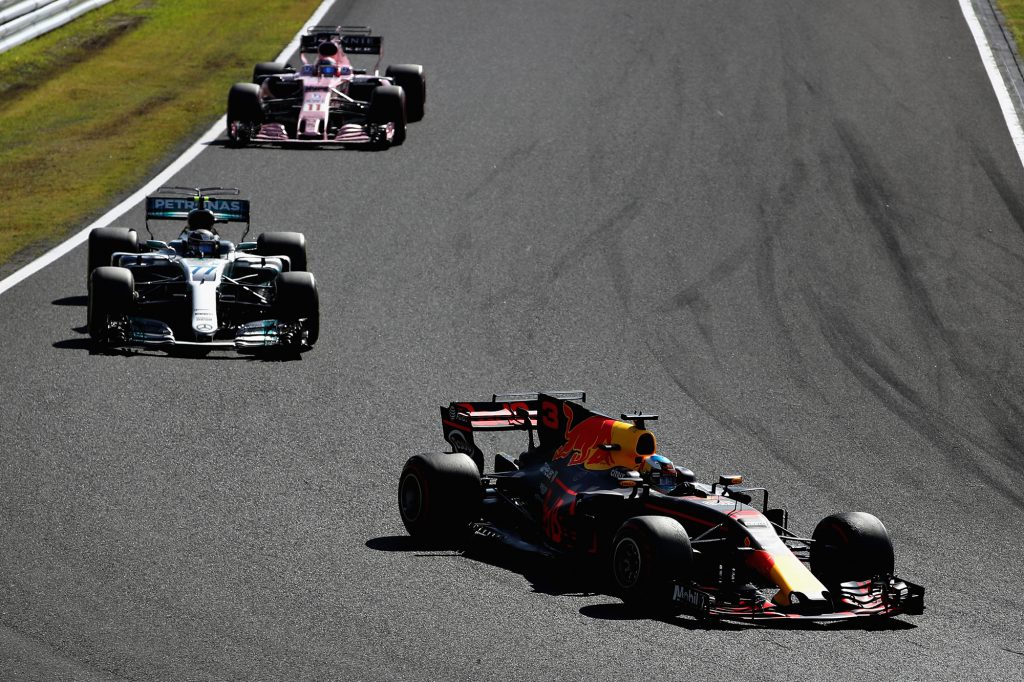 BUT THE TOP SIX REMAINS IMPENETRABLE
Valtteri Bottas and Kimi Räikkönen both drove impressive recovery drives on the alternative soft-supersoft strategy after both took five-place grid penalties, but this was down to pure pace more than strategic genius. As Sebastian Vettel did in Malaysia, Bottas and Räikkönen — fifth and 14th after the start — demonstrated that Formula One has become a two-tiered sport in which Mercedes, Ferrari and Red Bull Racing are unreachable in ordinary circumstances. One gets the sense that the result for the two Finns would have been similar regardless of the strategy employed.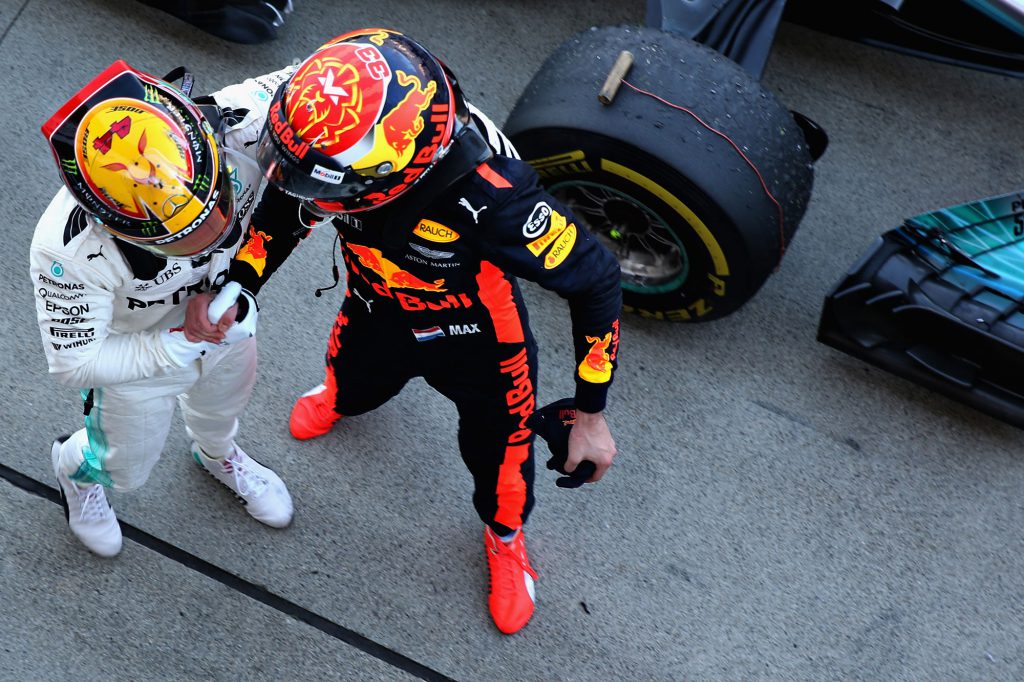 HONOURABLE MENTION: FERNANDO ALONSO
McLaren-Honda's relationship will end this season without having scored a point at Honda's home race, though Alonso raced hard for 10th place before falling less than a second short. Alonso did so without any strategic aids — his pit stop was well timed and he was fortuitous in that some of his midfield rivals pit out of his way, but simply he was at home in his car and on these tyres at this track, competing on merit with Williams for the final point.
Michael Lamonato @MichaelLamonato
ESSENTIAL STATS
Pole position: Lewis Hamilton, Mercedes — 1:27.319 Winner: Lewis Hamilton, Mercedes — 1:27:31.194 Strategy: One stop — supersoft-soft Fastest lap: Valtteri Bottas, Mercedes — 1:33.144
LONGEST STINTS
Supersoft: Ricciardo, Raikkonen, Alonso (25 laps)
Soft: Palmer (39 laps)
RACE DATA
Thanks to Pirelli Motorsport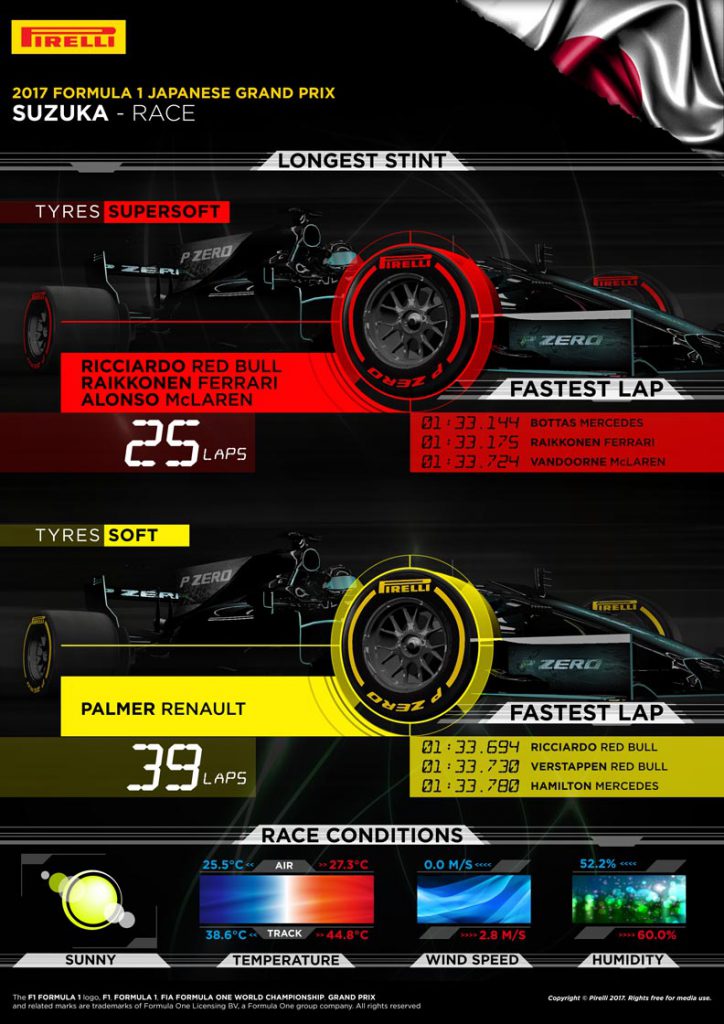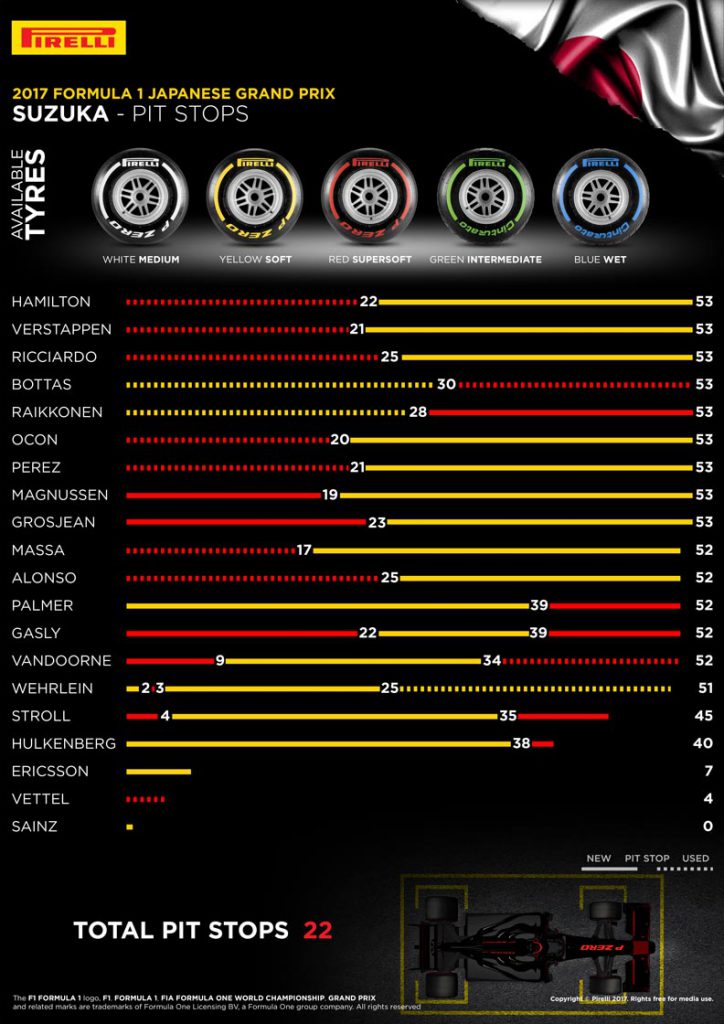 STINTS BY DRIVER