Bahrain Grand Prix 2017
18 Apr 2017
Race 3 – 57 Laps – 5.412km per lap – 308.238km race distance – medium tyre wear
Bahrain GP F1 Strategy Report Podcast – our host Michael Lamonato is joined by Rodney Gordon from Superlicense Podcast.
The on-track action wasn't quite as red hot as the temperatures at the 2017 Bahrain Grand Prix but it was still an enjoyable race, with plenty of fun and frenetic battles to keep an eye on.
Sebastian Vettel emerged victorious for Ferrari, with strategy playing an important part of the four-time champion getting the better of Mercedes racers Lewis Hamilton and polesitter Valtteri Bottas.
Alongside the thrills and spills of the racing at the Bahrain International Circuit, there were plenty of strategy options to take and storylines to monitor.
And it's our job to share the major strategy headlines from each F1 race, so let's get going:
The Bottas Train
In the early stages of the race, it looked as if leader Bottas simply didn't have the pace of those in the train of cars forming behind him. He was unable to open up a gap to Vettel and this allowed Hamilton and the Red Bulls to close in too.
But, as it turns out, Bottas was suffering with high tyre pressures following a generator failure on the grid, which caused him to struggle in the opening laps. It wasn't because he was simply slower, but because the tyres weren't working as they normally would and he was sliding around quite a bit.
Ferrari goes for the undercut
The undercut has always worked well in Bahrain, with drivers pitting earlier than rivals to get the jump on fresher tyres. Ferrari put this strategy to good use with Vettel's first stop, although this was helped by Mercedes suffering slow stops with wheel gun issues.
He stopped on lap 10 for new super-softs, taking advantage of his fresh Pirelli rubber in the limited opportunity he had. The deployment of the safety car could've ruined his race but actually, the slow Mercedes stops and good timing from Ferrari meant Vettel took the lead.
Five seconds lost
Hamilton could well have been all over the back of Vettel's car in the final laps of the race, had he not picked up a five-second time penalty for holding up Daniel Ricciardo at the pitlane entry before his first stop.
It was a lose-lose situation for Hamilton really, and we've not seen penalties handed out for backing up on pit entry. He would've been stuck behind Bottas in the pits, or lost time lingering back before entering the pits. Hamilton went for the latter and it came back to bite him.
The five-second penalty proved crucial in him losing out in the fight for victory. Without it, the six-second gap to Vettel at the chequered flag would clearly have been much less.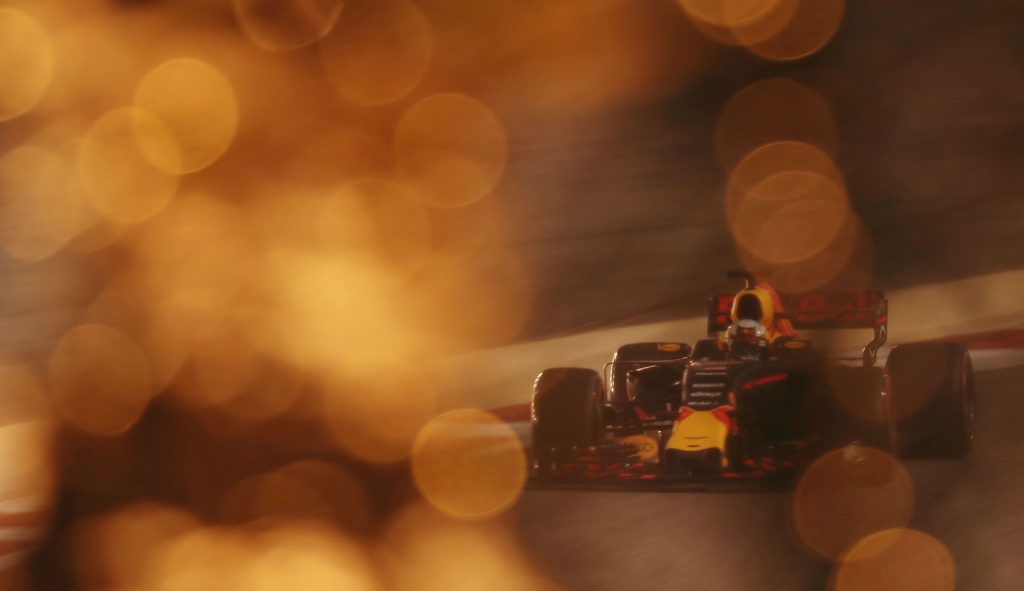 Softs for the Silver Arrows
Interestingly, Mercedes opted to fit softs for Hamilton's shorter final stint, staying out longer on his yellow-marked tyres and pitting for fresher scrubbed softs on lap 41. Many thought super-softs would've worked better due to the improved performance, and some got over 20 laps out of their super-softs. Hamilton questioned the call over team radio but Mercedes said the data showed it was the better tyre. Who knows if he could've made up ground quicker on super-softs.
Underwhelming Iceman
Kimi Raikkonen put in another fairly forgettable performance, seemingly struggling more with the SF70H compared to Vettel. He had a poor first lap in Bahrain and lost ground, which meant he was cooped up behind old team-mate Felipe Massa for quite some time and this cost him in the fight for a potential podium.
His super-soft tyre performance was underwhelming, he couldn't quite bring them to life. Ferrari could have also pitted him earlier for a second time, he was left out a little too long on super-softs and lost a bit of time. An earlier switch to new super-softs could've brought him closer to Bottas in the scrap for third, as he finished just behind the Mercedes.
Red Bull fired up
Daniel Ricciardo said after the race he thought Red Bull could be in contention for victory in the opening stint, with the Aussie behind team-mate Max Verstappen. Both were latched onto the lead battle but their gap to the leader was flattered by Bottas's slow pace early on.
Ricciardo eventually dropped back, struggling to warm up the softs and wearing through the super-softs quicker than a lot of other cars. This seems to suggest Verstappen and Ricciardo would've slipped back anyway, even if it wasn't for Verstappen's brake failure and the 'Honey Badger' just generally lacking pace.
Ballsy Perez
A brave first lap from Sergio Perez saw him vault up five places, making up another in the first stint to move into the fight for points. He went for a more aggressive super-soft/super-soft/soft strategy, putting the extra grip in the opening two stints to good use and making up a lot of ground.
The safety car played its part in him shooting up the field, but he drove well, looked after his tyres, knew when to attack and wrapped things up with a solid soft-tyre stint to finish the race in seventh – despite starting 18th.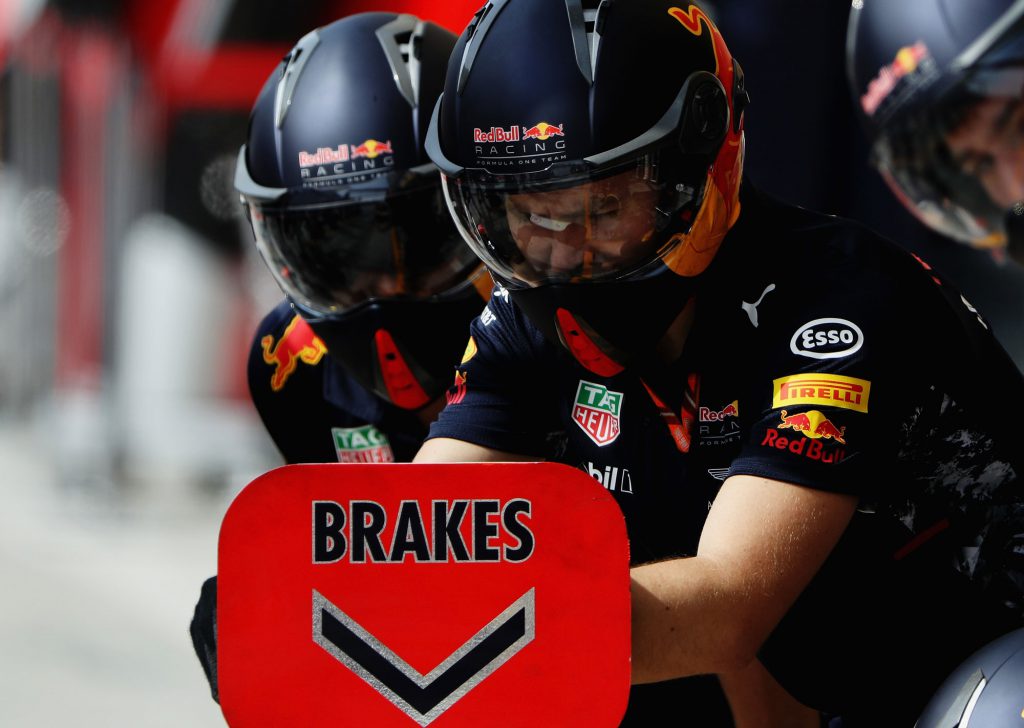 Two-stop dominates
These new, more durable, wider Pirelli tyres meant we were expecting a lot of one-stop races but the demanding nature of the Bahrain circuit and warm temperatures meant two stops dominated proceedings, with only Pascal Wehrlein – on his racing return – going for a one-stop (and it almost worked for him).
The tyres held up pretty well despite the conditions, which helped Wehrlein almost score a point. Esteban Ocon did the most laps on super-softs with 26, while Wehrlein's 45-lap soft tyre stint was the longest. The medium tyre wasn't even used at all and barely played a part in the whole weekend, because the soft and super-softs worked so well and held their grip for so long.
Starting on softs
Marcus Ericsson was the only driver to start the race on softs, the rest went for super-softs. He tried something different and looked on course for a one-stop race, like Wehrlein, but it didn't work out as well. Staying out during the safety car came back to bite him and he quickly dropped down the order. Progress had started to be made on super-softs when he retired with a gearbox failure.
Jack Leslie @JackLeslieF1
Longest Stints
Supersoft: Ocon (26 laps)
Soft: Wehrlein (45 laps)
All the Data
Thanks to Pirelli Motorsport for the detailed infographics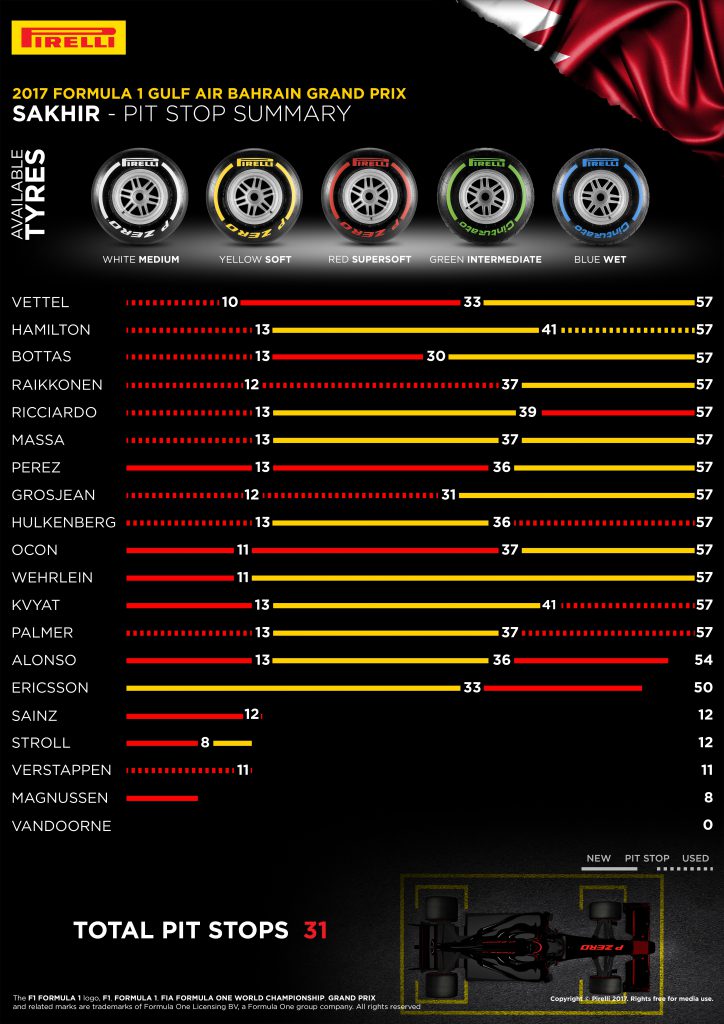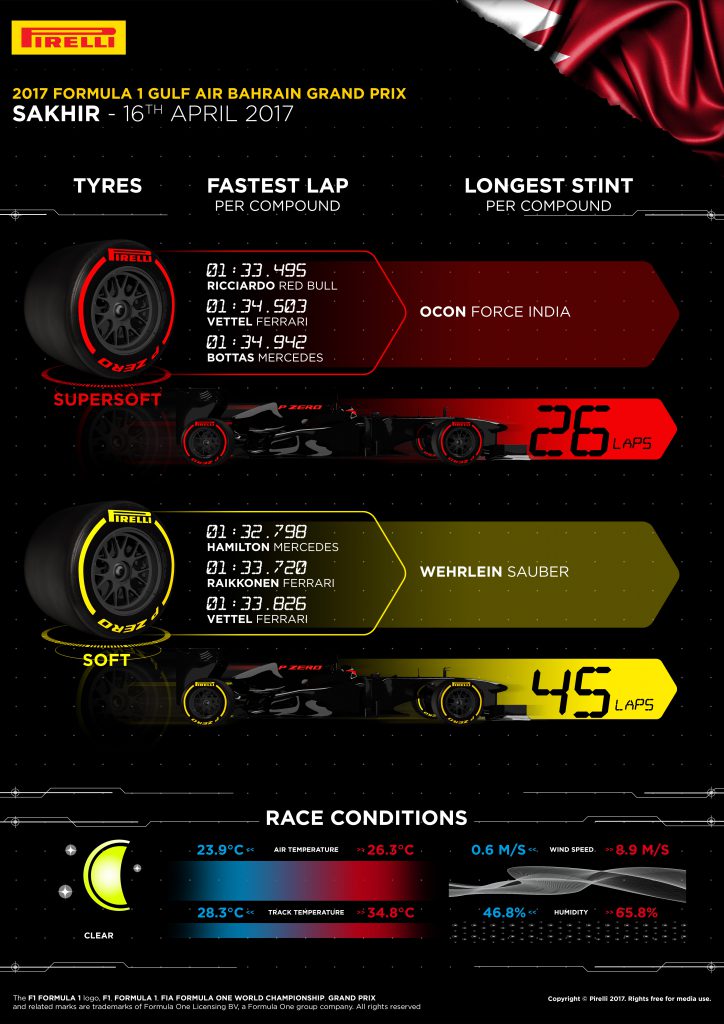 Stints by Driver
Safety Car

Lap 13-16

2. Vandoorne

Start P17
Supersoft
1 laps
–
Retired L1 (DNF)

3. Ricciardo

Start P4
Used Supersoft
13 laps
Pit 25.312
Soft
26 laps
Pit 25.2
Supersoft
18 laps
–
Finished P5 (-1)

5. Vettel

Start P3
Used Supersoft
10 laps
Pit 24.702
Supersoft
23 laps
Pit 24.314
Soft
24 laps
–
Finished P1 (+2)

7. Raikkonen

Start P5
Used Supersoft
12 laps
Pit 26.43
Used Supersoft
25 laps
Pit 25.856
Soft
20 laps
–
Finished P4 (+1)

8. Grosjean

Start P9
Used Supersoft
12 laps
Pit 25.075
Used Supersoft
19 laps
Pit 24.965
Soft
26 laps
–
Finished P8 (+1)

9. Ericsson

Start P19
Soft
33 laps
Pit 25.576
Supersoft
17 laps
–
Retired L50 (DNF)

11. Perez

Start P18
Supersoft
13 laps
Pit 24.332
Supersoft
23 laps
Pit 24.63
Soft
21 laps
–
Finished P7 (+11)

14. Alonso

Start P15
Supersoft
13 laps
Pit 24.922
Soft
23 laps
Pit 24.723
Supersoft
18 laps
–
Finished P14 (+1)

18. Stroll

Start P12
Supersoft
8 laps
Pit 24.915
Soft
4 laps
–
Retired L12 (DNF)

19. Massa

Start P8
Used Supersoft
13 laps
Pit 25.704
Soft
24 laps
Pit 24.24
Soft
20 laps
–
Finished P6 (+2)

20. Magnussen

Start P20
Supersoft
8 laps
–
Retired L8 (DNF)

26. Kvyat

Start P11
Supersoft
13 laps
Pit 25.204
Soft
28 laps
Pit 25.246
Used Supersoft
15 laps
–
Finished P12 (-1)

27. Hulkenberg

Start P7
Used Supersoft
13 laps
Pit 26.634
Soft
23 laps
Pit 25.135
Used Supersoft
21 laps
–
Finished P9 (-2)

30. Palmer

Start P10
Used Supersoft
13 laps
Pit 27.466
Soft
24 laps
Pit 26.42
Used Supersoft
19 laps
–
Finished P13 (-3)

33. Verstappen

Start P6
Used Supersoft
11 laps
Pit 25.174
Supersoft
0 laps
–
Retired L11 (DNF)

94. Wehrlein

Start P13
Supersoft
11 laps
Pit 26.542
Soft
45 laps
–
Finished P11 (+2)

44. Hamilton

Start P2
Used Supersoft
13 laps
Pit 30.687
Soft
28 laps
Pit 30.682
Used Soft
16 laps
–
Finished P2 (+0)

55. Sainz

Start P16
Supersoft
12 laps
Pit 25.001
Supersoft
0 laps
–
Retired LF (DNF)

77. Bottas

Start P1
Used Supersoft
13 laps
Pit 28.368
Supersoft
17 laps
Pit 24.54
Soft
27 laps
–
Finished P3 (-2)

31. Ocon

Start P14
Supersoft
11 laps
Pit 24.664
Supersoft
26 laps
Pit 24.505
Soft
20 laps
–
Finished P10 (+4)