Mexican Grand Prix 2016
31 Oct 2016
Race 19 – 71 Laps – 4.304km per lap – 305.354km race distance – medium tyre wear
Mexican GP F1 Strategy Report Podcast – our host Michael Lamonato is joined by Peter Anderson from Carsales.com.au.
The Autodromo Hermanos Rodriguez hosted an unusual and intriguing Mexican Grand Prix, which started and ended with high drama. Lewis Hamilton claimed victory to cut the gap to team-mate Nico Rosberg to 19 points in the title fight.
Behind, there were some feisty battles, with three drivers being classified third at some point over Sunday afternoon and evening due to numerous penalties. Once all the dust had settled, it was Daniel Ricciardo completing the top three.
It wasn't a particularly outstanding race in terms of strategy, but there were some fascinating points to take away from the race. Here are the major strategy headlines to emerge from the Mexican GP weekend
Ricciardo goes long
After the first corner mayhem and incidents, the safety car was quickly dispatched. Several drivers opted to dive into the pit lane straight away, most notably Ricciardo's Red Bull. He went from super-softs to mediums, going for an aggressive two-stop strategy.
He did a long 49-lap stint on the medium tyre, going through traffic pretty quickly before going onto the soft tyre with 21 laps remaining. This gave him a nice, comfortably achievable final stint on the soft Pirelli compound, which enabled him to close in on the battling Max Verstappen and Sebastian Vettel.
Red Bull looked strong throughout the race, although – like Ferrari – not quite on Mercedes' pace. This meant Ricciardo was able to move into podium contention and despite finishing fifth on the road, he ended up getting the trophy for P3 anyway.
Vettel does his own thing
Vettel once again did his own strategy, staying out longer on the softs even when his Ferrari pit crew were ready for him. He did a remarkably long opening soft-tyre stint, which was all thanks to being able to make it through to Q2 on the mid-range compound.
He missed getting the longest soft-tyre stint of the race by two laps, pitting after 32 to go onto the medium. The soft as a whole held up well and Vettel was matching those behind him even with his older Pirelli rubber, which is probably why he opted to stay out a couple of laps after being originally called in.
It put him in better shape for the final, intense battles with the Red Bull duo but ultimately his aggression caught up to him, as he was penalised for moving in the braking zone on Ricciardo (ironically, something he'd complained about with Verstappen in previous races).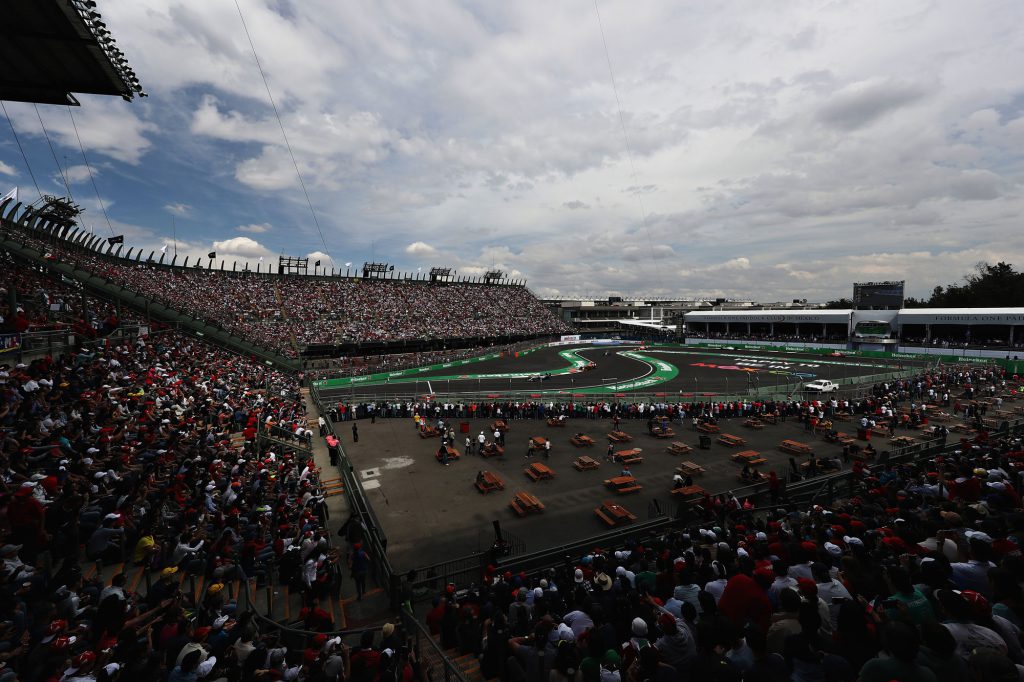 Perez can't make it work
Sergio Perez had hoped to get a better result in front of his home crowd, having qualified a disappointing 12th. But getting stuck behind both Williams drivers meant he couldn't make the most of being light on his tyres. First, a good start got him caught up behind Valtteri Bottas.
He struggled to get passed the Finnish driver but having moved onto the mediums, he then got stuck behind Felipe Massa. He got ahead of him once, but overcooked it into Turn 1 and fell back behind. The equal top speed and not-as-effective DRS meant he failed to find a way through and settled for 10th.
Red Bull tries the undercut
The two Mercedes drivers started on the softs, while the Red Bulls went for the super-softs, having used them in Q2. It appears Red Bull tried to undercut Rosberg, the second Silver Arrows on the road, with Ricciardo's alternative strategy and Verstappen's earlier stop.
Ricciardo ended up two-stopping with a late soft tyre stint to close in on Verstappen and Vettel. Verstappen pitted for mediums on lap 12 and made it all the way to the end, but Rosberg's later stop meant he was able to make it to the end without as much degradation and tyre wear, while Verstappen was struggling towards the end.
Penalty drama
Obviously, the result at the chequered flag changed drastically after the race. Verstappen was third but then was given a five-second time penalty for gaining time by cutting the first chicane while battling Vettel. This dropped him to fifth.
There was a horribly awkward moment in the pre-podium room where Verstappen finds that out and has to leave, with Vettel running to make the podium on time. But later in the evening Vettel was given a 10-second penalty for moving under braking while scrapping Ricciardo, dropping him to fifth. Ricciardo was promoted to third (securing P3 in the drivers' standings) and Verstappen moved back up to third.
Going long
It's also worth mentioning the mega jobs Marcus Ericsson and Jolyon Palmer did, stopping on lap one and going all the way to the end on medium tyres. The Sauber's drive was particularly impressive, as he finished 11th after being crashed into by Pascal Wehrlein on lap one.
He ditched his softs on lap one, while pitting for repairs, and made his mediums last a staggering 69 laps. Palmer also stopped on lap one after the safety car was deployed and matched that stint number, finishing 14th after starting last. Both showed good pace even in the final laps.
Jack Leslie @JackLeslieF1
Longest Stints
Supersoft: Kvyat (23 laps)
Soft: Kvyat (34 laps)
Medium: Ericsson, Palmer (69 laps)
All the Data
Thanks to Pirelli Motorsport for the detailed infographics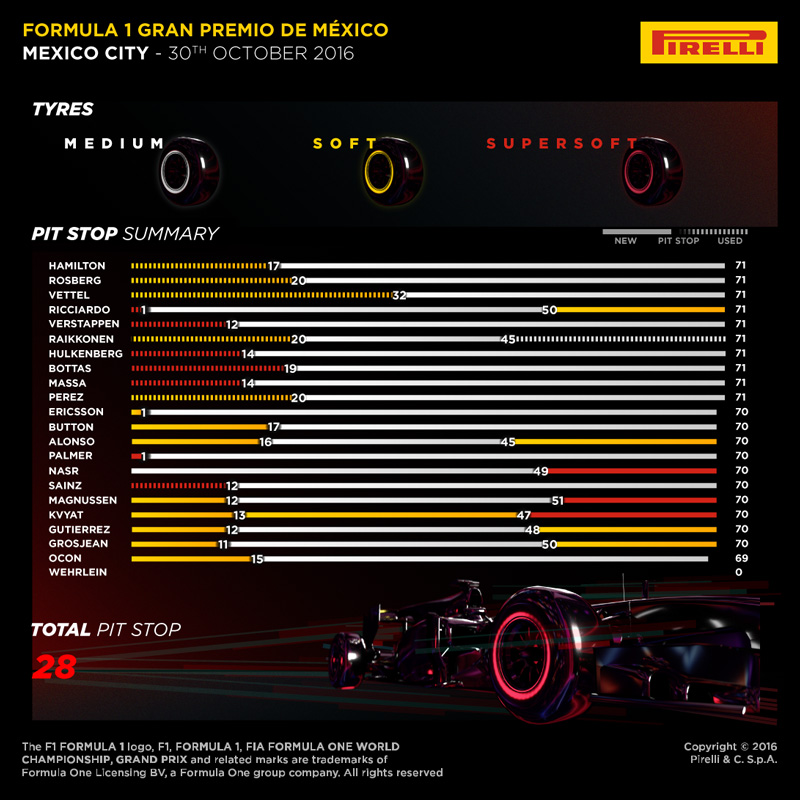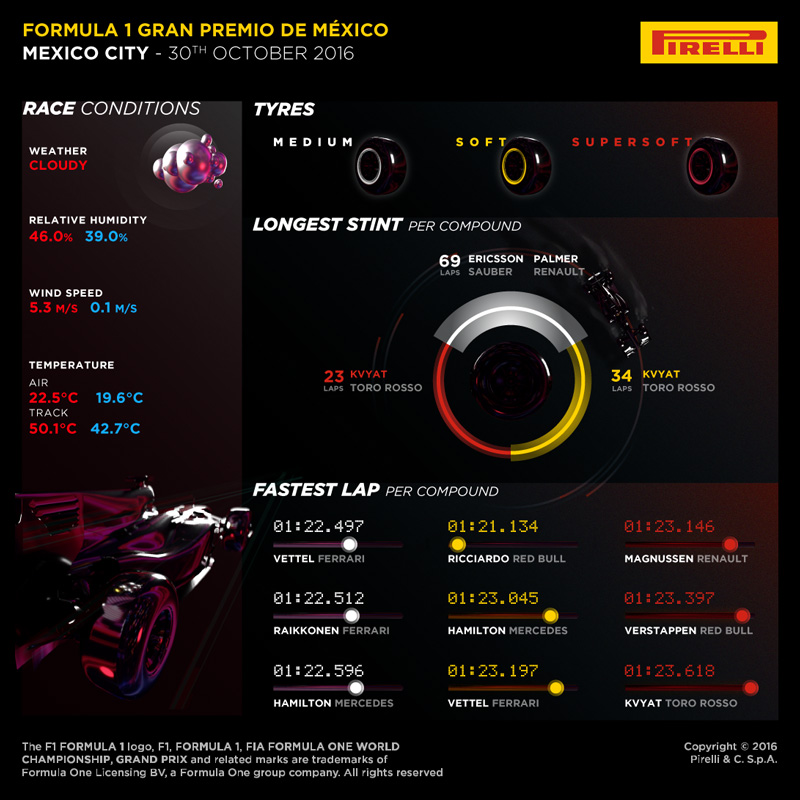 Stints by Driver
Safety Car

Lap 1-3

3. Ricciardo

Start P4
Used Supersoft
1 laps
Pit 22.087
Medium
49 laps
Pit 22.443
Soft
21 laps
–
Finished P4 (+0)

5. Vettel

Start P7
Used Soft
32 laps
Pit 22.035
Medium
39 laps
–
Finished P5 (+2)

6. Rosberg

Start P2
Used Soft
20 laps
Pit 21.997
Medium
51 laps
–
Finished P2 (+0)

7. Raikkonen

Start P6
Used Soft
20 laps
Pit 22.398
Medium
25 laps
Pit 22.974
Used Medium
26 laps
–
Finished P6 (+0)

8. Grosjean

Start P22
Soft
11 laps
Pit 22.957
Medium
39 laps
Pit 23.678
Soft
20 laps
–
Finished P20 (+2)

9. Ericsson

Start P15
Soft
1 laps
Pit 32.608
Medium
69 laps
–
Finished P11 (+4)

11. Perez

Start P12
Used Soft
20 laps
Pit 22.213
Medium
51 laps
–
Finished P10 (+2)

12. Nasr

Start P19
Medium
49 laps
Pit 23.54
Supersoft
21 laps
–
Finished P15 (+4)

14. Alonso

Start P11
Soft
16 laps
Pit 22.461
Medium
29 laps
Pit 25.171
Soft
25 laps
–
Finished P13 (-2)

19. Massa

Start P9
Used Supersoft
14 laps
Pit 21.863
Medium
57 laps
–
Finished P9 (+0)

20. Magnussen

Start P14
Soft
12 laps
Pit 22.271
Medium
58 laps
–
Finished P17 (-3)

21. Guttierrez

Start P17
Soft
12 laps
Pit 25.198
Medium
36 laps
Pit 23.11
Soft
22 laps
–
Finished P19 (-2)

22. Button

Start P13
Soft
17 laps
Pit 22.438
Medium
53 laps
–
Finished P12 (+1)

26. Kvyat

Start P18
Soft
13 laps
Pit 22.665
Soft
34 laps
Pit 22.865
Supersoft
23 laps
–
Finished P18 (+0)

27. Hulkenberg

Start P5
Used Supersoft
14 laps
Pit 22.134
Medium
57 laps
–
Finished P7 (-2)

30. Palmer

Start P21
Supersoft
1 laps
Pit 23.897
Medium
69 laps
–
Finished P14 (+7)

33. Verstappen

Start P3
Used Supersoft
12 laps
Pit 21.775
Medium
59 laps
–
Finished P4 (-1)

44. Hamilton

Start P1
Used Soft
17 laps
Pit 21.709
Medium
54 laps
–
Finished P1 (+0)

55. Sainz

Start P10
Used Supersoft
12 laps
Pit 22.747
Medium
58 laps
–
Finished P16 (-6)

77. Bottas

Start P8
Used Supersoft
19 laps
Pit 22.396
Medium
52 laps
–
Finished P8 (+0)

31. Ocon

Start P20
Soft
15 laps
Pit 23.866
Medium
54 laps
–
Finished P21 (-1)

94. Wehrlein

Start P16
1 laps
–
Retired L1 (DNF)