Hungarian Grand Prix 2016
26 Jul 2016
Image: BUDAPEST, HUNGARY – JULY 24: Max Verstappen of the Netherlands drives the 6 Red Bull Racing Red Bull-TAG Heuer RB12 TAG Heuer during the Formula One Grand Prix of Hungary at Hungaroring on July 24, 2016 in Budapest, Hungary. (Photo by Dan Istitene/Getty Images)
Race 11 – 70 Laps – 4.381km per lap – 306.630km race distance – medium tyre wear
Hungarian GP F1 Strategy Report Podcast – our host Michael Lamonato is joined by Jack Leslie from JLF1.
The 2016 Hungarian Grand Prix kicked off the second half of the Formula 1 season in a rather underwhelming fashion. There were some good battles and overtakes, as well as a bit of added tension with the two Mercedes cars racing at the front of the field, but it all fell a little flat.
Lewis Hamilton enjoyed a strong launch from the grid and took the lead into Turn 1, controlling the race from there. Nico Rosberg had to settle for a close second, while Daniel Ricciardo picked up another Hungaroring podium in third. While the race wasn't the most exciting of the season so far, plenty of strategy stories and headlines emerged from round 11 of the 2016:
Two stop the way to go
As predicted by Pirelli prior to the race, a two-stop strategy with the first stint on the super-soft and two further stints on the soft tyre compound proved to be the most popular strategy. We saw a few drivers and teams shake things up and try something different with the order of tyre usage but overall, the two-stop race dominated.
But what F1's tyre supplier didn't predict correctly was when those stops would take place. There was talk beforehand of drivers ditching the super-soft before lap 10 and guidelines were once again given for the number of laps completed – 14 laps for the super-soft and 29 for the soft. These were ignored.
Despite the highest track temperature of the season so far, the soft and supersoft compounds worked well at the Hungaroring and its new, grippy and less bumpy track surface. It was less abrasive than the previous surface and this not only meant we saw quicker lap times but it also elongated the stints too.
Hamilton on control
The race winner went for a pretty standard two-stop strategy, pitting on lap 16 to change from super-softs to softs and then moving onto another pair of the middle compound on lap 41. Both times he undercut Rosberg, obviously as the leader he got priority but there was a moment where this didn't look to be the case as the Red Bulls closed on Rosberg.
It looked like Hamilton was in complete control at the front of the field, maybe even slowing the pace slightly to drop Rosberg back. The German driver kept within close proximity of his team-mate all race but didn't look to have the edge or enough speed to properly try an overtake.
He got close a few times, partly due to traffic (we're looking at you, Esteban Gutierrez) and a late Turn 12 mistake but Rosberg just didn't have enough left in the tank to make a move. Hamilton always seemed to respond and get the gap back out to around the two second mark.
Kimi tries something different
One of the few drivers to go off course when it came to race strategy was Kimi Raikkonen and Ferrari had to take a risk with him. Qualifying did not go to plan and the Finn started down in 14th place on the soft tyre, unlike the majority of his rivals. With Ferrari's superior pace he was able to weave his way up the order and well into the top 10 by the time he stopped for super-softs on lap 29.
This is a good point to make – the top three teams have such an advantage now that making progress on an alternative strategy after a poor qualifying is fairly easy work. An aggressive middle stint on the super-softs further brought him into contention but he struggled to get past Max Verstappen in the closing stages, which damaged his red-marked tyres (and his front wing).
Sixth was still a good recovery and his pace throughout was impressive, it makes you wonder what could have been had he started further up. Of course, Verstappen was held up behind Raikkonen after his first stop but that would come back to bite the Ferrari, who then got stuck viewing the Red Bull RB12's rear end for the final part of the Hungarian GP.
Mediums fail to work
A couple of drivers appeared to be attempting a one-stop race but the hot temperatures and lack of grip on the medium compound meant everyone had to switch strategies and move onto a two-stop. Drivers reported sliding on the mediums and they just didn't work with the track surface, proving to be too hard and not grippy enough.
We have largely seen that the hardest compound is rarely used during race weekends, making you question whether we really need three options. While it is occasionally used, as was the case un Hungary, using it in the race doesn't typically work and we saw this once again.
Felipe Massa, Sergio Perez (who lost time when his pit crew forgot to turn up), Rio Haryanto and Jenson Button all tried the medium tyre but without much success. Perez and Massa even looked to be trying a one-stop but ended up having to switch to softer compounds.
Palmer almost scores a point
Renault switched things up with the two-stop by putting Jolyon Palmer on a soft/super-soft/soft strategy. It actually worked quite well, in a similar way to Raikkonen's, with the Brit moving steadily up the order and into contention for his first F1 points. But with the track being so tough to pass on, a spin at Turn 4 threw that hard work away and he eventually finished 13th.
Jack Leslie @JackLeslieF1
Longest Stints
Medium: Massa (40 laps)
Soft: Ricciardo (37 laps)
Supersoft: Magnussen (24 laps)
Most Stops
Ericsson, Button (3 – including drive-throughs)
All the Data
Thanks to Pirelli Motorsport for the detailed infographics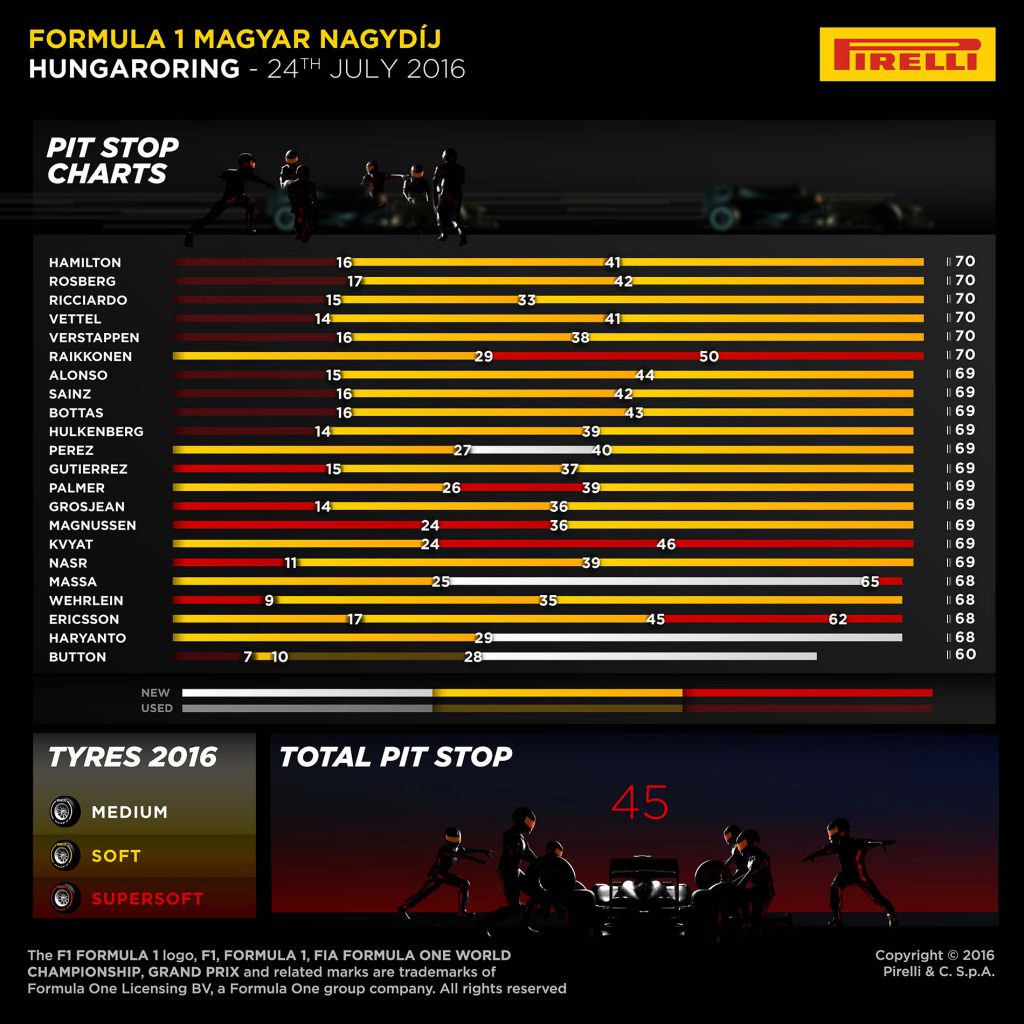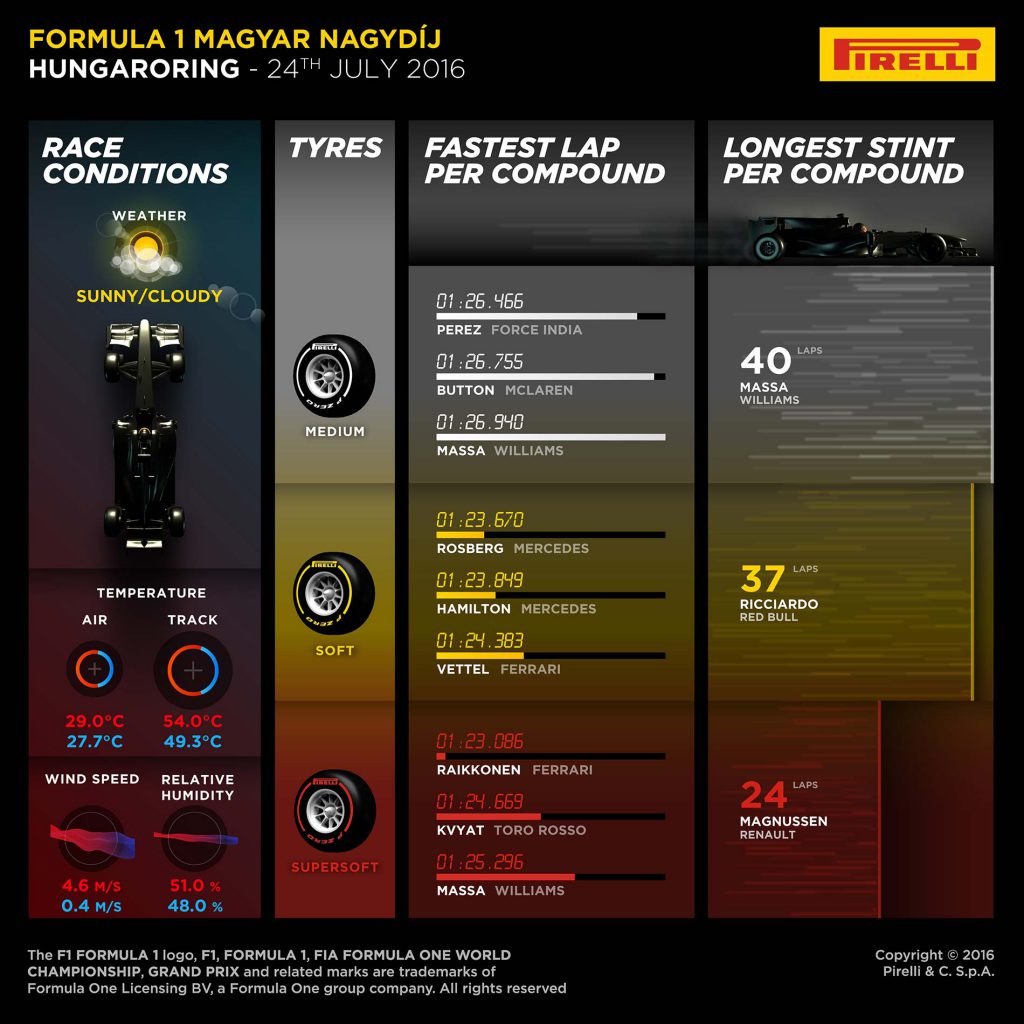 Stints by Driver
Safety Car

n/a

3. Ricciardo

Start P3
Used Supersoft
15 laps
Pit 22.241
Soft
18 laps
Pit 22.006
Soft
37 laps
–
Finished P3 (+0)

5. Vettel

Start P5
Used Supersoft
14 laps
Pit 21.64
Soft
27 laps
Pit 21.535
Soft
29 laps
–
Finished P4 (+1)

6. Rosberg

Start P1
Used Supersoft
17 laps
Pit 21.233
Soft
25 laps
Pit 22.351
Soft
28 laps
–
Finished P2 (-1)

7. Raikkonen

Start P14
Soft
29 laps
Pit 21.951
Supersoft
21 laps
Pit 21.857
Supersoft
20 laps
–
Finished P6 (+8)

8. Grosjean

Start P11
Supersoft
14 laps
Pit 22.427
Soft
22 laps
Pit 22.303
Soft
33 laps
–
Finished P14 (-3)

9. Ericsson

Start P22
Soft
17 laps
Pit 23.873
Soft
28 laps
Pit 23.198
Supersoft
17 laps
Pit 23.308
Supersoft
6 laps
–
Finished P20 (+2)

11. Perez

Start P13
Soft
27 laps
Pit 22.689
Medium
13 laps
Pit 29.941
Soft
29 laps
–
Finished P11 (+2)

12. Nasr

Start P16
Supersoft
11 laps
Pit 22.778
Soft
28 laps
Pit 22.965
Soft
30 laps
–
Finished P17 (-1)

14. Alonso

Start P7
Used Supersoft
15 laps
Pit 22.099
Soft
29 laps
Pit 21.897
Soft
25 laps
–
Finished P7 (+0)

19. Massa

Start P18
Soft
25 laps
Pit 21.793
Medium
40 laps
Pit 22.366
Supersoft
3 laps
–
Finished P18 (+0)

20. Magnussen

Start P19
Supersoft
24 laps
Pit 21.99
Supersoft
12 laps
Pit 22.051
Soft
33 laps
–
Finished P15 (+4)

21. Guttierrez

Start P15
Supersoft
15 laps
Pit 22.828
Soft
22 laps
Pit 22.52
Soft
32 laps
–
Finished P13 (+2)

22. Button

Start P8
Used Supersoft
7 laps
Pit 22.229
Soft
21 laps
Pit 22.718
Medium
32 laps
–
Retired L60 (DNF)

26. Kvyat

Start P12
Soft
24 laps
Pit 22.105
Supersoft
22 laps
Pit 27.951
Supersoft
23 laps
–
Finished P16 (-4)

27. Hulkenberg

Start P9
Used Supersoft
14 laps
Pit 22.014
Soft
25 laps
Pit 23.35
Soft
30 laps
–
Finished P10 (-1)

30. Palmer

Start P17
Soft
26 laps
Pit 21.892
Supersoft
13 laps
Pit 21.665
Soft
30 laps
–
Finished P12 (+5)

33. Verstappen

Start P4
Used Supersoft
16 laps
Pit 22.389
Soft
22 laps
Pit 21.687
Soft
32 laps
–
Finished P5 (-1)

44. Hamilton

Start P2
Used Supersoft
16 laps
Pit 21.441
Soft
25 laps
Pit 21.773
Soft
29 laps
–
Finished P1 (+1)

55. Sainz

Start P6
Used Supersoft
16 laps
Pit 22.96
Soft
26 laps
Pit 22.417
Soft
27 laps
–
Finished P8 (-2)

77. Bottas

Start P10
Used Supersoft
16 laps
Pit 21.704
Soft
27 laps
Pit 21.405
Soft
26 laps
–
Finished P8 (+2)

88. Haryanto

Start P21
Soft
29 laps
Pit 24.254
Medium
39 laps
–
Finished P21 (+0)

94. Wehrlein

Start P20
Supersoft
9 laps
Pit 23.486
Soft
26 laps
Pit 22.765
Soft
33 laps
–
Finished P19 (+1)